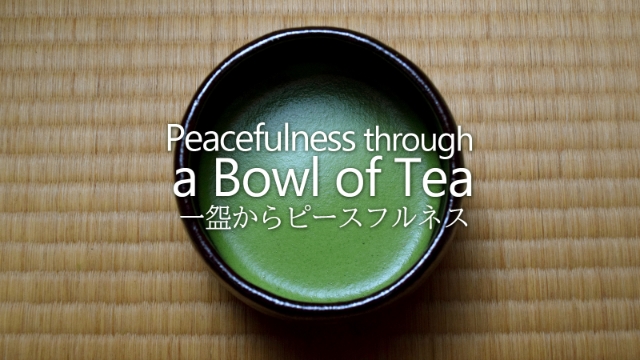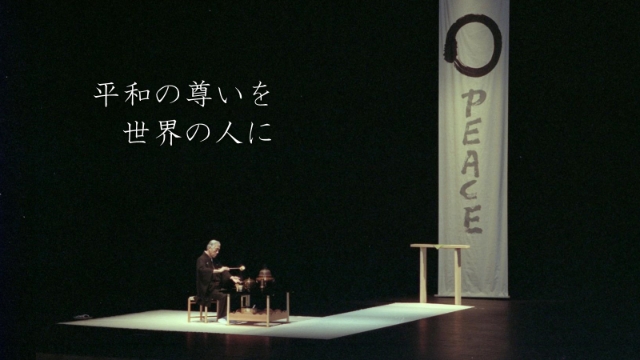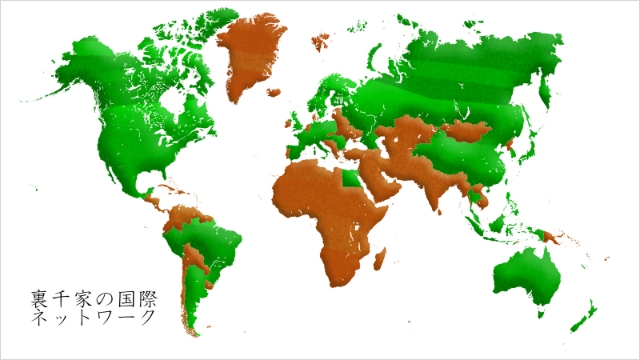 Urasenke Chado Around the World
Hounsai SEN Genshitsu has been traveling around the world advocating "Peacefulness through a Bowl of Tea," as his life's work. Having witnessed the devastation of World War II, it was with a strong conviction to convey the preciousness of peace to the people of the world through chado's spirit of "Harmony, Respect, Purity, and Tranquility," that he made his first trip abroad, to the U.S.A.
In 1951, Urasenke's first "shibu" or "chapter" outside Japan was established in Hawaii. This was followed by the establishment of chapters (now called Tankokai "kyokai" or "associations") and Urasenke Foundation branch offices and training centers in major cities in North, Central, and South America. Since then, the spread of Urasenke chado has progressed to places around the world, including in Western Europe, Oceania, Asia, Eastern Europe, and Africa, and the number of Urasenke overseas organizations and people who practice chado has been increasing.
In that chado encompasses a vast range of facets, including social etiquette, cuisine, arts and crafts, literature, and much more, it is an invaluable portal to the Japanese people's traditional moral and aesthetic values and lifestyle. Urasenke, recognizing that its international cultural exchange activities are vital in order to encourage international understanding of Japan and its people, has been dedicatedly pursuing these activities to spread knowledge and appreciation of chado around the world.
Nuestra Senora del Carmen Church peace prayer ritual tea offering (Cuba)

Angkor Wat peace prayer ritual tea offering (Cambodia)

U.N. Headquarters peace prayer chakai (New York)

Bodhgaya temple ritual tea offering (India)

USS Arizona Memorial peace prayer ritual tea offering (Hawaii)
Introducing World Leaders to Chado
In response to requests from the Ministry of Foreign Affairs of Japan, embassies of various countries in Japan, and various international exchange groups and organizations, we not only introduce chado to foreign dignitaries and researchers visiting Japan from abroad, but also visit countries around the world to hold chado events. Hounsai SEN Genshitsu and Zabosai SEN Soshitsu have personally prepared tea for many heads of state and members of royalty visiting Japan, including President Bush of the United States, President Chirac of France, former President Gorbachev of Russia, Chancellor Merkel of Germany, President Chet of Vietnam, President Mesic of Croatia, President Parvanov of Bulgaria, King and Queen Wangchuck of Bhutan, Prime Minister Coelho of Portugal, President Poroshenko of Ukraine, and President Tan of Singapore. Hounsai and Zabosai have also often traveled abroad and offered tea to dignitaries there, including Chinese President Jiang Zemin, President Arroyo of the Philippines, President Yudhoyono of Indonesia, President Wulff of Germany, Crown Prince Mohamad of the Emirate of Abu Dhabi, and Secretary General Ban Ki-moon of the United Nations.
China, President Jiang Zemin

Abu Dhabi, Crown Prince Mohamad

President and Mrs. Tan of Singapore, at Konnichian

China, President Jiang Zemin

Abu Dhabi, Crown Prince Mohamad

President and Mrs. Tan of Singapore, at Konnichian
International Chado Education and Research
Academic research on chado is being conducted in many countries around the world. The Japanese Way of Tea has been adopted as an academic discipline at the University of Hawaii and other universities throughout the U.S.A., as well as in Brazil, China, Taiwan, Korea, Russia, Poland, and other countries, and is being taught and researched by eminent professors and scholars. Hounsai SEN Genshitsu and Zabosai SEN Soshitsu themselves give lectures in various countries.
In the field of professional education in Japan, a full-time training course for non-Japanese chado pupils was established at the Urasenke Gakuen Professional College of Chado in 1970. Called the Midorikai students' course, more than 500 pupils from abroad have been trained in this course. The International Chado Institute (ICI), which meets for chado instruction on Saturdays, has also been established, to provide opportunities for foreigners living in Japan to study chado at Urasenke headquarters.
At Urasenke headquarters, intensive English-based seminars are held on a regular basis, to nurture international-minded Japanese chado followers. Many who attend this seminar become members of the Urasenke International Association (UIA) and are active in introducing chado overseas.
Lecture at Chung-Ang University, So. Korea

Midorikai students during a training session

English-based seminar for Japanese chado followers

International Chakai at Konnichian

University of Hawaii at Manoa tea garden "Seien" and tea house "Jakuan"

International Network
There are 112 overseas Urasenke Foundation branch offices or liaison offices and Tankokai associations in 37 countries and regions of the world (as of April 2021). At the branches and liaison offices, there is an official resident chado instructor dispatched from Urasenke headquarters. The Tankokai associations, on the other hand, are comparable to the Tankokai "shibu" or "chapters" in Japan.
Tea rooms donated by Urasenke are located in many major cities, and are not only contributing to the popularization of chado, but are also being utilized to introduce other forms of Japanese culture, and are serving as symbols of friendship.
To inquire about what Urasenke chado study place you might begin studying at in your vicinity, click here: