Iemoto Soshitsu SEN Serves Tea to 21st G7 Speakers' Meeting Members at Konnichian
At Urasenke Konnichian headquarters on Saturday, September 9, 2023, Iemoto Soshitsu SEN, at the request of Japan's House of Representatives Speaker Hiroyuki HOSODA, received presiding officers of the parliaments of the G7 countries and of the European Parliament, as well as the Chairman of the Ukrainian Verkhovna Rada, who were in Japan to attend the 21st G7 Speakers' Meeting. They were accompanied by many officials and aides. In that Japan was the host country of the 2023 G7 Summit, the G7 Speaker's Meeting was being held in Japan.
The presiding parliamentary officers, their principal delegates, and their country's ambassadors to Japan, for a total of 25 guests, were shown into the "Chōfu-no-ma" within the Heisei Chashitsu, where Iemoto made tea for them in the chanoyu manner. Japan's Vice-Speaker of the House of Representatives, Mr. Banri KAIEDA, sat in the top guest's seat for this.
Afterwards, Iemoto guided them through the historical tea rooms in the main house and explained about the manner of chanoyu as it is traditionally conducted on tatami mats.
Meanwhile, the many other accompanying members of this Kyoto visit by the G7 Speakers' Meeting delegates were received at the Chado Research Center, where Iemoto had arranged for a special exhibition to be mounted for them in the galleries, and for them to be served higashi sweets and usucha tea.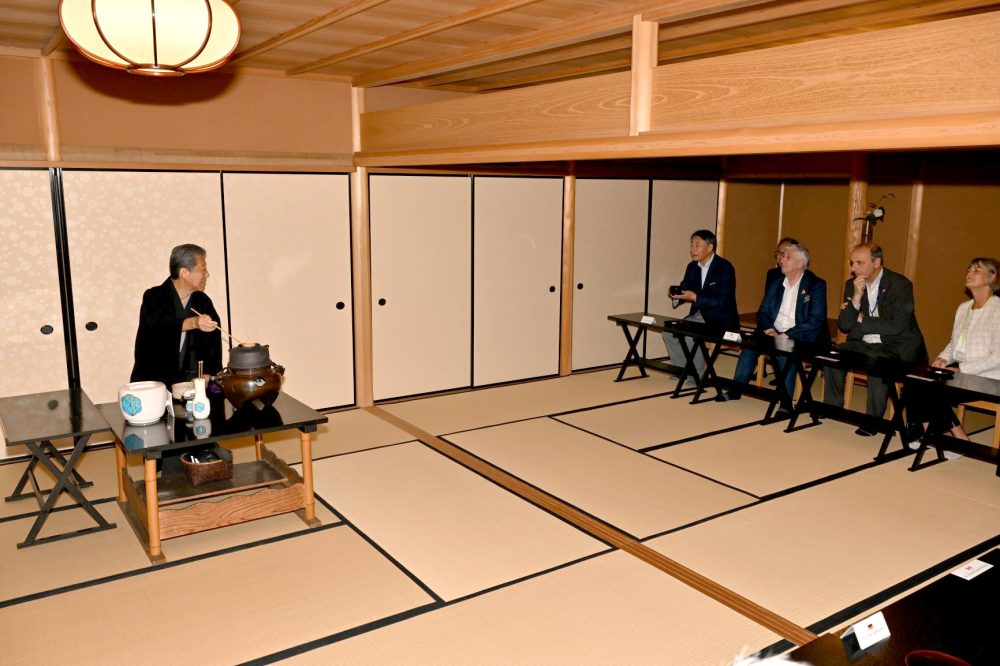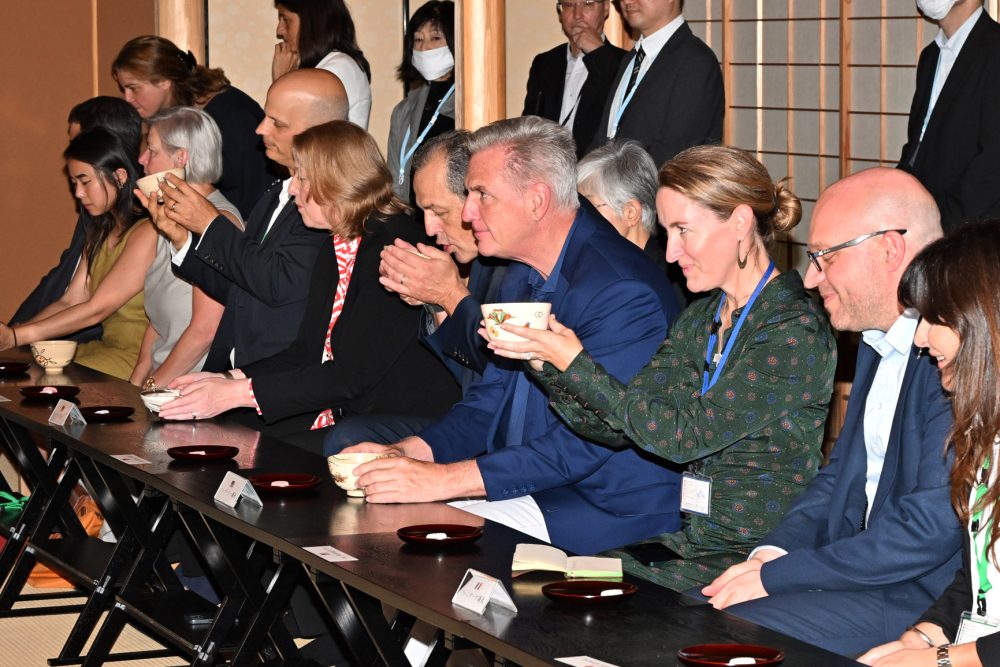 Japan: Mr. Banri Kaieda, Vice-Speaker of the House of Representatives
U.K.: Rt Hon Sir Lindsay Hoyle MP, Speaker of the House of Commons
France: H.E. Ms. Yaël Braun-Pivet, President of the National Assembly
Canada: The Honourable Anthony Rota, M.P., Speaker of the House of Commons
Germany: H.E. Ms. Bärbel Bas, President of the German Bundestag
U.S.A.: The Honorable Kevin McCarthy, Speaker of the House of Representatives
Italy: Hon. Lorenzo Fontana, President of the Chamber of Deputies
E.P.: H.E. Ms. Roberta Metsola, President of the European Parliament
Ukraine: H.E. Dr. Ruslan Stefanchuk, Chairman of the Verkhovna Rada